Japanese WWII Naval Recognition Models at the Maritime Museum of San Diego
by Robert K. Liu
Naval ship models used for recognition are one of the historical bases for scale ship models and are certainly of interest to any ship modeler/collector due to their use in World War I and II (Dorris 2010, Liu 1999, van der Porten 1996). However, very little has been written about such recognition models, especially those used by Axis navies, with the possible exception of those made by Wiking of Germany prior to and during WWII. About 2001, I chanced upon a collection of Japanese 1/500 models on permanent display in a case in the Maritime Museum of San Diego, which is converted from a former passenger ferry boat docked on the Embarcadero of downtown San Diego. These nineteen are the only such models that I am aware of in the holdings of an American museum.
Shown in a glass and wood case, in an area of the museum displaying numerous other naval models, the upper shelf holds 11 American naval ships [3 CV (Lexington, Enterprise, Wasp), 3 BB (Washington, Idaho, Pennsylvania), 1 CA (Augusta), 3 CL (Brooklyn, Astoria, Omaha) and 1 DD (Moffett)], while the lower shelf has 8 Japanese models [ 2 CV (Kaga, Ryuho), 3 BB (Haruna, Yamashiro, Ise), 3 CA (Tone, Takao, Aoba)]. Painted in two shades of naval greys, the BBs and CVs have tan decks, while the CA, CL and DD have dark brown decks. These were supposedly made pre-WWII for the Imperial Japanese Navy, to be used for ship recognition training of Japanese naval personnel. They appear to be primarily wood, with metal main and secondary guns, masts and cranes, although two of the data sheets given me by Bob Crawford, the former Curator of Models, list "grey plastic hull & superstructure" for Washington and "grey plastic" for the Wasp. According to the label, they were acquired from the Kure Naval Base by the donor, Lt. (JG) J.T. Bryon, USN, Ret., when U.S. naval forces occupied that base after the Japanese surrendered in September, 1945.
Given the dominance of the contemporary Japanese plastic model industry and how well-made are current Japanese large-scale ship models, including those in 1/500 (Konishi, possibly Sato), these recognition models are not impressive, although one has to bear in mind that they were made prior to WWII and accurate data must have been difficult for the Japanese modelmakers to access. Again, through the gracious help of Mr. Crawford, I had dimensions for four of the American models; when these were checked against Jane's Fighting Ships 1944-45, the Lexington and Enterprise scaled out to 1/511, the Washington to 1/528 and the Idaho to 1/599. The overall configurations look good, especially for their own vessels but all secondary armament is very generalized, there is almost no AA (which may not be that inaccurate at that early date). Where there is supposed to be a quad one inch gun, it is shown as an enclosed turret (see closeup photograph of BB Washington). If one compares these to American 1/500 recognition models of WWII or the 1/300 models used as photographic subjects by the David Taylor Model Basin staff for the U.S. Navy's recognition/intelligence publications ONI-54 or ONI-41-421, 41-42 or 220J, 225J, the differences in accuracy of the respective models are striking. The 1/600 (1/300 for subs) German recognition models made by the Japanese-American internees at the Gila River Internment Camp in Arizona were also much more accurate, but they were built to ONI plans (Dorris 2010).
Even with these limitations, the Japanese recognition models give us some idea of what was used by an Axis navy for this important task. Hopefully, there are other similar models to be discovered or other ship enthusiasts who can provide more information on this fascinating topic. Ironically, today's U.S. Navy no longer uses recognition models, relying instead on computer images (Bob Crawford, personal communication, 8/2001), although some individual US Navy ships still order small scale (1/1250) models (Bill Werner, personal communication, 10/2011).
1. 1/500 Japanese recognition models of WW II, left to right: BB Haruna, Yamashiro and Ise. Photographs by Robert K. Liu.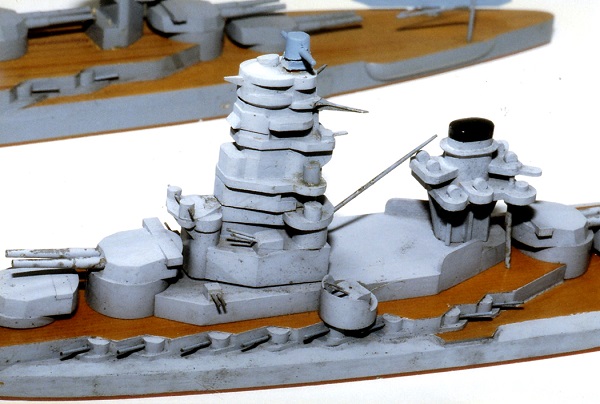 2
.
Closeup view of Ise; note
metal gun barrels, possibly reconstructed gun director on conning tower.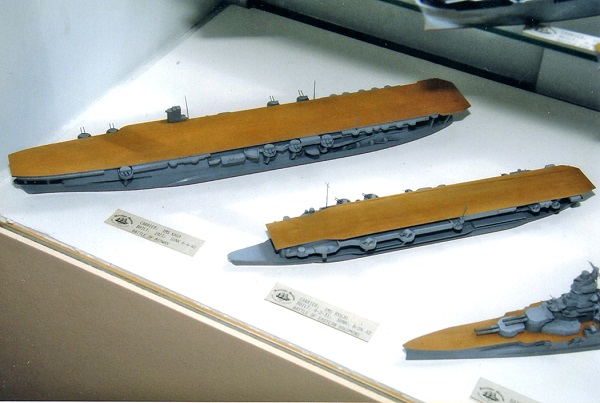 3. CV Kaga, Ryuho; BB Haruna.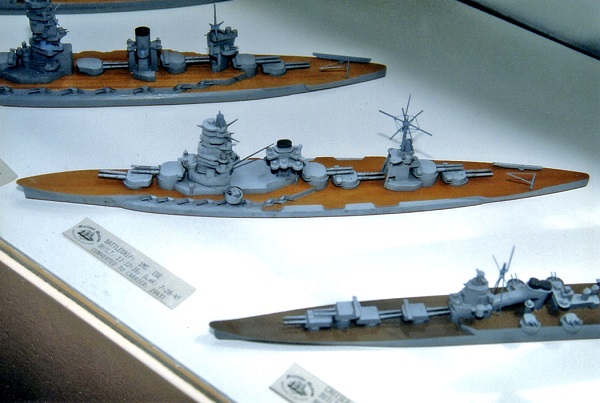 4. BB Yamashiro, Ise; CA Tone.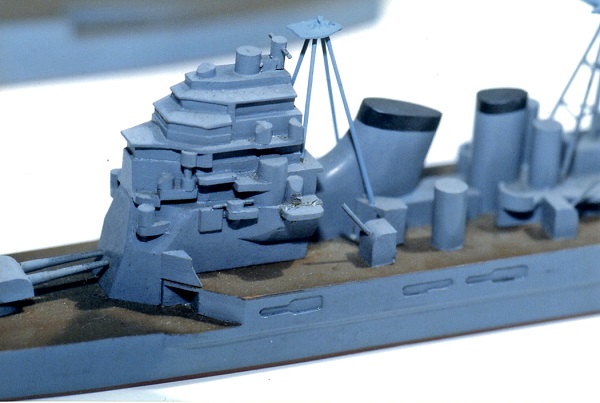 5. CA Aoba, detail.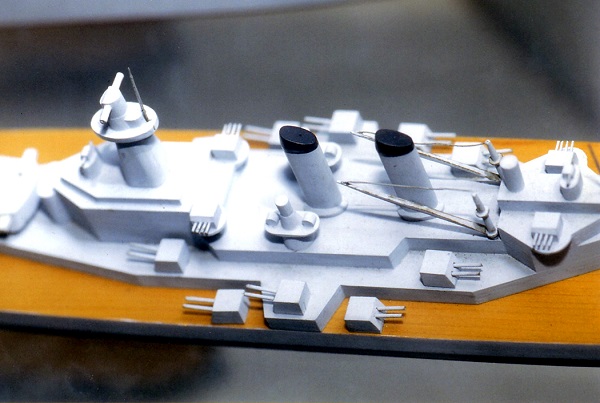 .
6. BB Washington, detail.
References:
Dorris, F. 2010 Ship models for the military. US manufacturers of ship models during the World Wars. Claremont, Chris Daley Publishing: 148 p.
Liu, R. K. 1999 The historical basis of naval ship model scales. Waterline International IV(13): 36-38.
van der Porten, Edward P. 1996 Ship models go to war. Nautical Research Journal 41(1):32-44.